Turkey Italian Wedding Soup with Kale
Posted by Maryjane Haley on June 07, 2018
Comfort food at its most nutritious: Italian wedding soup with kale and homemade turkey meatballs is wonderful on any cold day or night.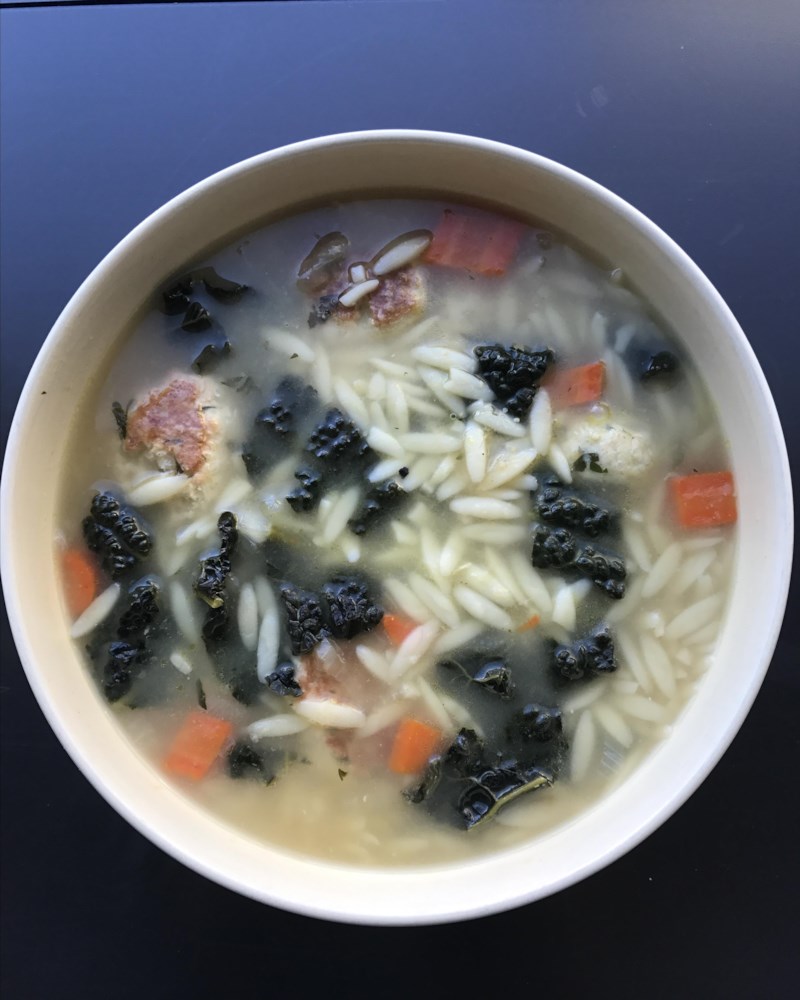 AMAZING
Turkey Italian Wedding Soup with Kale
Recipe & Cooking Ideas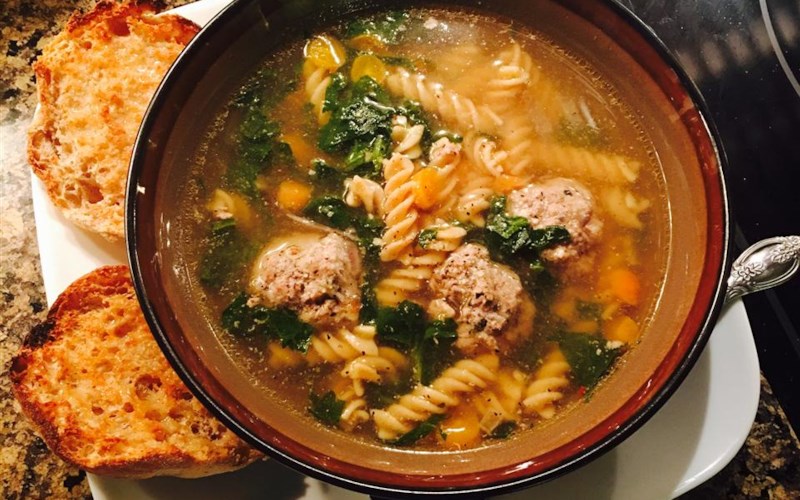 Preparation
30m
Cook Time
45m
Servings
8
Calories
266
Ready In
30m
Ingredients
1 large egg
2 tablespoons water
1/4 cup Italian bread crumbs
1 pound lean ground turkey
1/4 cup freshly grated Parmesan cheese
2 tablespoons chopped Italian parsley
2 cloves garlic, grated
3/4 teaspoon salt
1/4 teaspoon ground white pepper
2 tablespoons olive oil, divided
1 cup chopped carrots
1 large shallot, sliced
10 cups chicken broth
1/2 cup dry white wine
3/4 cup orzo
1 large bunch dinosaur kale, coarsely chopped
salt and pepper to taste
Steps
1 Preheat the oven to 350 degrees F (175 degrees C). Line a baking sheet with parchment paper.
2 Whisk egg and water together in a bowl. Mix in bread crumbs and let stand 5 minutes. Add turkey, Parmesan cheese, parsley, garlic, salt, and pepper; stir gently to blend. Shape mixture into 1 1/4-inch diameter meatballs using wet hands. Place meatballs on the prepared baking sheet. Cover with plastic wrap and refrigerate until firm, 15 to 30 minutes.
3 Coat chilled meatballs in 1 tablespoon olive oil.
4 Bake in the preheated oven until browned, about 20 minutes.
5 Pour remaining olive oil into a heavy soup pot over medium heat. Add carrots and shallot; cook until tender, about 5 minutes. Add chicken broth and wine. Bring to a boil, add orzo, and reduce heat to medium. Cook, uncovered, until orzo is tender, about 5 minutes. Add kale and cook until wilted, about 5 minutes more. Add cooked meatballs and cook until heated through, about 5 minutes. Season with salt and pepper.